Hello Pinettes!
How are you all doing?

This week we are continuing with our Rainbow theme.

And we will focus on a couple of activities that you might like to do.
Singing
First the Singing Walrus – in the Pine Class we love the singing Walrus!!
And a song all about colour!!!






https://www.youtube.com/watch?v=SLZcWGQQsmg
What about some singing and signing – with Mr Tumble!
https://www.youtube.com/watch?v=yLpEGM34Fic
And while we are listening to some Rainbows songs here is a nice one.

https://www.youtube.com/watch?v=mXtpjBzPMeY
Colour Sorting

We love to colour sort in class – so a wee challenge for you all!!!
If you like you could find us 5 different red things

and 5 different yellow

things – can you take a photograph and send it in so we can see what you have collected – things from outside, from the kitchen or from your toy box.
For lots of our colour sorting activities – check out these on Pinterest – Wilson loves Pinterest!!!
https://www.pinterest.com.au/search/pins/?q=colour%20sorting&rs=typed&term_meta[]=colour%7Ctyped&term_meta[]=sorting%7Ctyped
Art

If you watched the film Wizard of Oz – did you like the song?
"If I only had a Heart"

with the Tin Man
https://www.youtube.com/watch?v=PU_QsEnogTg
For Art this week what about some Heart Art?
Fold a piece of paper in half and cut out a heart;
Open the heart up;
Put paint on one side of the heart and fold back in half – press it down;
Open up – beautiful Symmetry Painting!!!
Why don't you put this in your window for everyone passing by to see – it will make them smile.
Another activity is to cut some hearts from some cardboard you are going to recycle, such as cereal boxes – responsible citizens and cover them in tinfoil, you could punch a hole in the top and string them up and watch the sunlight reflect off them, even decorate them if you want with beads, stickers or feathers.
Cookery

First a Red cookery idea, what about Strawberry Jelly? Make up the Jelly according to the packet instructions, allow it to cool down a little and then add something else you like that is red – what about chopped up strawberries or red smarties?? Any other ideas?? What does your jelly smell like? Does it wobble? Was it tasty?
Next a Yellow Food, couple of ideas, custard a favourite in the Pine Room – do you like it hot or cold??? Or yellow vanilla ice-cream if you prefer, or if you parents would like a challenge what about helping them to make some scones!!! Jam and cream OR butter and jam????? Yummy!!
https://www.bbc.co.uk/food/recipes/tea_time_scones_77839
Numeracy

If you are out and about either in your car, or out for a walk or watching from your window why don't you count the red and yellow cars going past, was there more red or yellow cars???
VE Day




This is Friday the 8th of May. Why not have a picnic inside or outside – remember this was just after the Second World War so food was limited and no Supermarkets – so keep it simple!!!
Jam sandwiches, a pork pie, a plain bun, jelly and custard!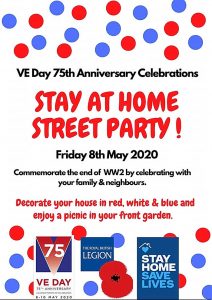 Have a lovely week Pine Class, do what you want to do in the blog, sent us some comments and send us some photos – we would love to hear and see what you have all been up to.
Jardine, Aitken, Boyle and Wilson miss you all!!!
Love the Pine Ladies