INFORMATION FOR INFANT BEGINNERS – REGISTRATION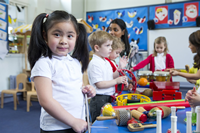 Inverclyde Council has changed the way in which children register for primary school. This process will now be undertaken by completing an online application form which can be found on the Inverclyde Council website at
It's vitally important that parents follow the online registration process to register their child for a Primary 1 place in an Inverclyde school.
Children who reach the age of five years between 1 March 2022 and 28 February 2023 are due to start Primary 1 at the beginning of the new school term in August 2022. Parents are asked to register their child in their chosen denominational or non-denominational catchment primary school, from Monday 10th January 2022 – Friday 14th January 2022.
Once parents have completed the Primary 1 registration, they will have the choice to complete a placing request application to a school other than the catchment primary (This includes Primary 1 Gaelic Medium education at Whinhill Primary School). A deferred entry application is also available to parents considering deferring their child's entry to Primary 1 in August 2022.
No documents will be required at this stage; however, we may have to contact you, should we require further information.
Parents will be notified by 30 April 2022 confirming their child's place in school and information regarding induction days will follow from the school after this date.
Parents who do not have internet access to apply online, are asked to contact their child's current Early Years Establishment for assistance.
Entry age
Your child will be admitted to school in August if their fifth birthday falls between 01 March of that same year and the last day of February of the following year.
If your child's fifth birthday falls after the last day of February then you may wish to request an early entry to school. If this is the case then please contact Education Services on 01475 712850.
Defer Entry
All children wishing for a deferred entry MUST register at their catchment school of their chosen denomination and complete a deferred entry application form.  This form is available online.
School entry for children with a January/February birthday can be deferred for one year and would receive a funded Early Learning and Childcare Place.
School entry entry for children with an August to December birthday may also choose to apply for a deferred year but a funded Early Learning and Childcare place will not be guaranteed.
For pupils with additional support needs
Inverclyde Council has a policy on inclusion and equality which incorporates the assumption that all children will routinely be educated within their own community. Transitional arrangements for children with additional support needs, moving from nursery to primary or primary to secondary, are discussed at a child's review meeting. Any child or young person with additional support needs who requires more specialist support will be discussed at Inverclyde's Additional Support Needs Monitoring Forum. The Forum will make recommendations related to resources, support and necessary specialist placements.
Useful Links
St Patricks Primary School Website
Whinhill Primary School Website
Inverclyde policy on admissions and pupil placement in mainstream schools