(Please click to see information) Nursery Registration 2021
Titanic – 16.01.20
Our topic this learning block is Titanic. We enjoyed using our topic to help us explore floating and sinking.
Special Visitor and Carol Singing- 13.12.19
Santa came to visit us during our pantomime rehearsals! Lots of very happy boy and girls! We also enjoyed our community carol singing concert where we invited family, friends and members of the community in to join in with us.
Paired Reading – 22.11.19
Working with the boys and girls from P4 – 7 and Enjoying some Friday morning paired reading!
Numeracy – 19.11.19
P3 working hard on their numeracy today!
Children in Need – 14.11.19
We had a great day yesterday celebrating Children in Need! All children made a fantastic effort and enjoyed learning all about the fantastic ways the charity helps children!
The Straiton Way!
Stuck in the mud? Not to worry…the pupil at Straiton are here to help you out!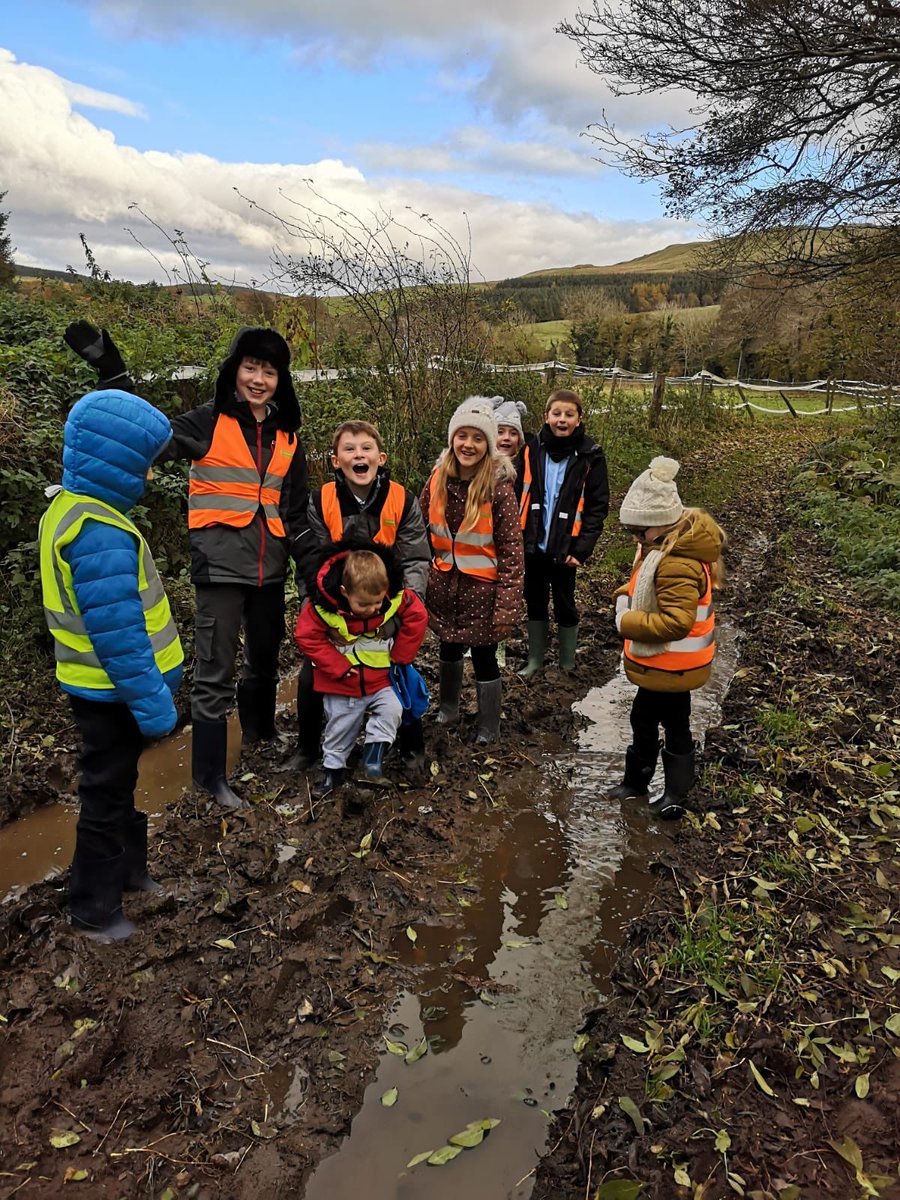 Learning through Play
Max in the nursery joined Cameron in Primary 3, where they enjoyed some free play time! They created their own 'ice cream' work station and used lots of different measuring materials to support them in their play.
31.10.19 ~ Halloween Party
Here are some photos from our spooky Halloween Party! We had fun dressing up in our costumes and dooking for apples, pinning the witches nose, eating doughnuts with no hands and having a go at the feely boxes!
10.10.19 ~ Harvest Soup Kitchen
As part of our harvest celebrations, we decided to run a soup kitchen. We invited members of the community alongside parents, families and friends to take part in our soup kitchen. We prepared homemade sweet potato and coconut soup, and red pepper. We also made some delicious traybakes for everyone to enjoy with their teas and coffee! All money raised went to our chosen charity this year, The Ayrshire Hospice.
13.09.19 ~ Roald Dahl Day
We celebrated Roald Dahl Day by dressing up as our favourite character from a Roald Dahl book. We took part in lots of Roald Dahl related activities.
8.03.19 – Kelvingrove Museum
P1-3 had a fantastic time at Kelvingrove Museum. They were amazed at how big Dippy the dinosaur was and enjoyed a self-led trail around the museum!
4.03.19 – 6.03.19 Home Cook School
We've had a great 3 days with Home Cook School! P1-3 made dinosaur volcano baked potatoes with homemade salsa and salad. They practised their peeling and chopping skills and were encouraged to work independently, organising their work station and ensuring they tidied up after themselves. They also made some delicious pancakes for pancake day too!
01.03.19 Sponsored Cross Country Run!
Wow! Well done to all boys and girls in Nursery – Primary 3! In order to raise money for our chosen charity RNLI, the boys and girls chose to put themselves through their paces and run 2.4KM around the village! ALL children were exceptional, very positive and pushed themselves to the very end! Well done everyone!! Final total to be confirmed.
29.01.19 Burns Supper. 
What a fantastic afternoon we had at our Burns Supper! Children, staff, parents and the wider community all came together to enjoy a delicious lunch and some entertainment provided by the children! Well done to Cada for her input on the toast to the lassies, well done to Ethan for his fantastic poem, and well done to all boys and girls in P1-3 for their fantastic singing of "Donald Wheres Yer Troosers" and "Loch Lomond." Not to forget, we also enjoyed some traditional Scottish dancing too!
21.21.19  Scots Afternoon! 
As part of our Scottish focus we had a Scots afternoon where we worked in groups to make Scottish kilts, tartan and Scotch pancakes!
19.12.18 – Christmas Party
 We all had a blast at our joint schools Christmas party! We all looked great in our party outfits and enjoyed singing, dancing, lots of party games and even some food to keep us going! We hope everyone has a lovely Christmas and New Year and we look forward to seeing you all in 2019.
6.12.18 – Baking
Some photos from our time baking for the Community Cuppa. We made Rocky Road, where we had to weigh out ingredients, melt chocolate, bash up the biscuits and mix it all together! Not to forget do all the washing up at the end. If you would like to taste our lovely baking, please come along to our Community Cuppa which happens the first Friday of every month at the McCandlish Hall! 
9.11.18 – Harvest
Thank you to everyone who contributed towards the food bank at our Harvest Assembly. Katie and Max from the nursery done a fantastic job dropping the food off at Maybole food bank, and then enjoyed a play in the soft play area!
9.11.18 – Remberance Day
 We explored the poppy and displayed our own wreath in honour of remembrance day. The boys and girls from Nursery – P3 painted their own poppies for us to use on our whole school art project.