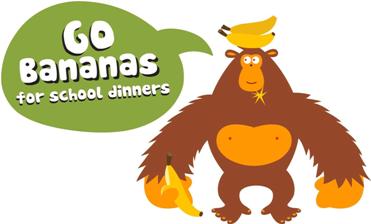 What are the benefits of having a School Meal?
School Meals offer a selection of up to three main course items and a choice of puddings, fresh fruit and yoghurt.
Children can sit down together and enjoy their meal, whilst at the same time developing those social skills of eating together that are important in life.
A well fed and happy child is more likely to be receptive to participating in the afternoon's activities.
The School meal aims to provide essential nutritional requirements that will assist your child in leading a 'bright and healthy' lifestyle.
Have the benefits of having someone else preparing and cooking lunch for your child.

There continues to be an increase in the uptake of School meals at Primary Schools.
COST OF SCHOOL MEALS
P1 – P3  Free School Meal                   P4 – P7  £2.30
P1 – P3 lunches are still fully funded by the Scottish Government..
Online Primary School Dinners LOGIN  iPayimpact
JUICE/MILK TOKENS
Juice & milk tokens can be bought daily from 8:45am each day.
The cost is 25p for juice and 20p for milk.
Moray Council Primary School Menu 2019/20