Welcome to the fortnightly STEM planner. Keep reading to find out more about exciting STEM developments across Scotland. Please feel free to share this planner with colleagues and school partners.
Scotland's Climate Week 25 September – 1 October 
Scotland's Climate Week is an annual event that encourages individuals, communities and businesses to come together to show support for tackling the climate emergency. It's also a great opportunity to share success stories which can inspire others to take action.
STEM Grant Programme Spotlight
This month the spotlight falls on Fife Education and Children's Services in the South East Collaborative – with their Regional and National Partners funded project – STEM for all in Fife – Self-Service Professional Learning Site. The local authority STEM leads and a number of practitioners across the authority received funding to research, design and deliver a self-service STEM Professional Learning Site. This site enables Fife Early Learning, Primary, Secondary and ASN practitioners to build knowledge, skills and confidence to deliver an effective and progressive STEM curriculum with key links to businesses, industries and local landmarks, supporting relevant STEM learner pathways to the Fife STEM pipeline.
The Fife STEM Professional Learning Site developed through this grant provides a new singular, high-quality, self-service approach to STEM Professional Learning, with a specific focus on local STEM contexts and identified STEM priorities in Fife. The front-facing Site is accessible to everyone who chooses to visit: blogs.glowscotland.org.uk/fi/stemclpl/
STEM the Flow of marine pollution with Keep Scotland Beautiful
Delivered as part of Keep Scotland Beautiful's award-winning Upstream Battle campaign, the STEM the Flow competition encourages pupils to investigate and design solutions to tackle marine litter at source with a pupil-led STEM project for Primary 5 to Secondary 3.
The STEM the Flow competition is live now. Please register to take part and stay up to date will all the STEM the Flow Challenge information.
Royal Highland Education Trust – Teacher Learning Opportunities
Food underpins society.  As the recent pandemic has demonstrated, appreciating and understanding food – the journey it takes to get to the plate, how to utilise it effectively and developing a knowledge of food sustainability are vitally important.
RHET's training, through the provision of up to date information, provides the opportunity to reflect and develop personal connections to the complexities of our food system.  IT touches on health and wellbeing, science, technology and geography.  We all need to eat and food is a component of life which crosses boundaries and is truly interdisciplinary.
This professional learning involves tackling current issues through providing practitioners with information, together with the opportunities to gain knowledge and expand pedagogies through experiencing industry and/or undertaking classroom activities, utilising virtual and face to face opportunities.
Strathclyde Engineering Scholars
Strathclyde Engineering Scholars is a programme which aims to positively impact the diversity of young people studying engineering at university. Ultimately, this will help ensure that the engineering profession is representative of the diversity that exists in society.
The Strathclyde Engineering Scholars programme supports young people from underrepresented groups to:
• access a university engineering education
• succeed at university
• develop the confidence, skills and knowledge for a successful career as a professional engineer.
Strathclyde Engineering Scholars is currently funded by the Royal Academy of Engineering Diversity Impact Programme.
Successful applicants will receive a personalised scholarship package of free support including:
• regular personal or small group academic tutoring in maths and physics (Higher and
Advanced Higher) whilst in S5 and S6
• mentoring from current students and professional engineers
• opportunity to attend engineering themed campus visits
Anyone residing in Scotland with a genuine interest in studying engineering at university, and who meets the criteria can apply or be nominated to become a Strathclyde Engineering Scholar.
Please let the young person know before you nominate them. The application deadline is 5pm on Friday 29 September.
For more information, please visit the website 
Scottish Water Careers Map – Let's Explore!
Have you ever wondered what it's like to work for Scottish Water? They have launched a brand new Careers Map for pupils across Scotland.
Pupils can explore eight stops along the map including Science & Environment, Construction & Engineering, Communication & more. The map has something for everyone, each stop giving insight into various areas throughout Scottish Water.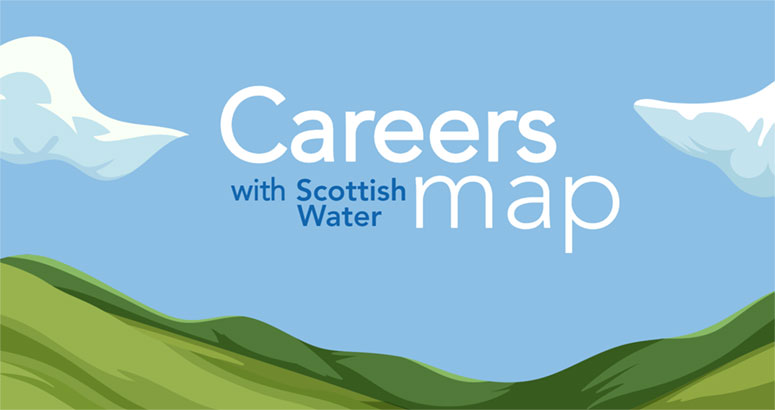 Pupils interested in STEM subjects may wish to visit Digital, Data & Technology, pupils interested in protecting our planet may wish to visit Science & Environment. In each stop, pupils are able to hear from people, talking about their roles & how they 'got the job' … it might not be the way you think!
The Careers Map is suitable for ages 10-17 (P6/7 – S6) & pupils in P6 – 7 who may benefit from an early introduction to the variety of exciting roles available to them in the future.
TechFest's STEM Next – an International Essay Competition for students aged 16-18
The TechFest International STEM Next essay competition is open to all 16 – 18 year olds.
The International STEM Next Essay competition bridges the gap between school education and higher education/working environments with industry linked, project-based learning that positively facilitates transition. It is a solo project that requires independent research and writing on a chosen topic from the list of interdisciplinary essay topics.
TechFest's Blueprint Challenge: A Future High Street project for S3 – S6 students
An interdisciplinary project that challenges S3 – S6 students to design a high street and create a space that allows society to thrive whilst simultaneously celebrating the natural world.
This project spans a range of different disciplines (engineering, architecture, art and design, health and wellbeing etc) and as such it is recommended that students create diverse teams showcasing different skill sets.
By bringing energy, technology and nature together there is the opportunity to create a high street that employs innovative technologies and mechanisms in the drive towards net-zero, nature-positive urban areas.
For more information please visit the website
Engineering UK Rapid Evidence Review
Interventions to increase girls' aspirations for engineering and technology careers
This review brings together the available evidence on interventions that aim to increase girls' aspirations for engineering and technology careers. Through summarising the existing literature, it highlights learning on effective interventions that can be used by STEM outreach providers to improve gender diversity in these careers.
Dates for your diary