****SATURDAY MUSIC CENTRE UPDATE REGARDING COVID-19. All Saturday Music Centre 

Instrumental Lessons, along with all other music centre activities have been suspended until further notice. Many thanks for your continued support and understanding****
---
Launching our NEW App! Please check your child's bag for our flyer. To download the app scan the QR code or search 'PSA' or 'PSA primaryschoolapp' in the Apple or Google Play app stores. Once you've opened the app, just search for 'East Renfrewshire Instrumental Music Service' to see our latest events, news and messages. Please click on the link below for information on using the PSA app on Apple.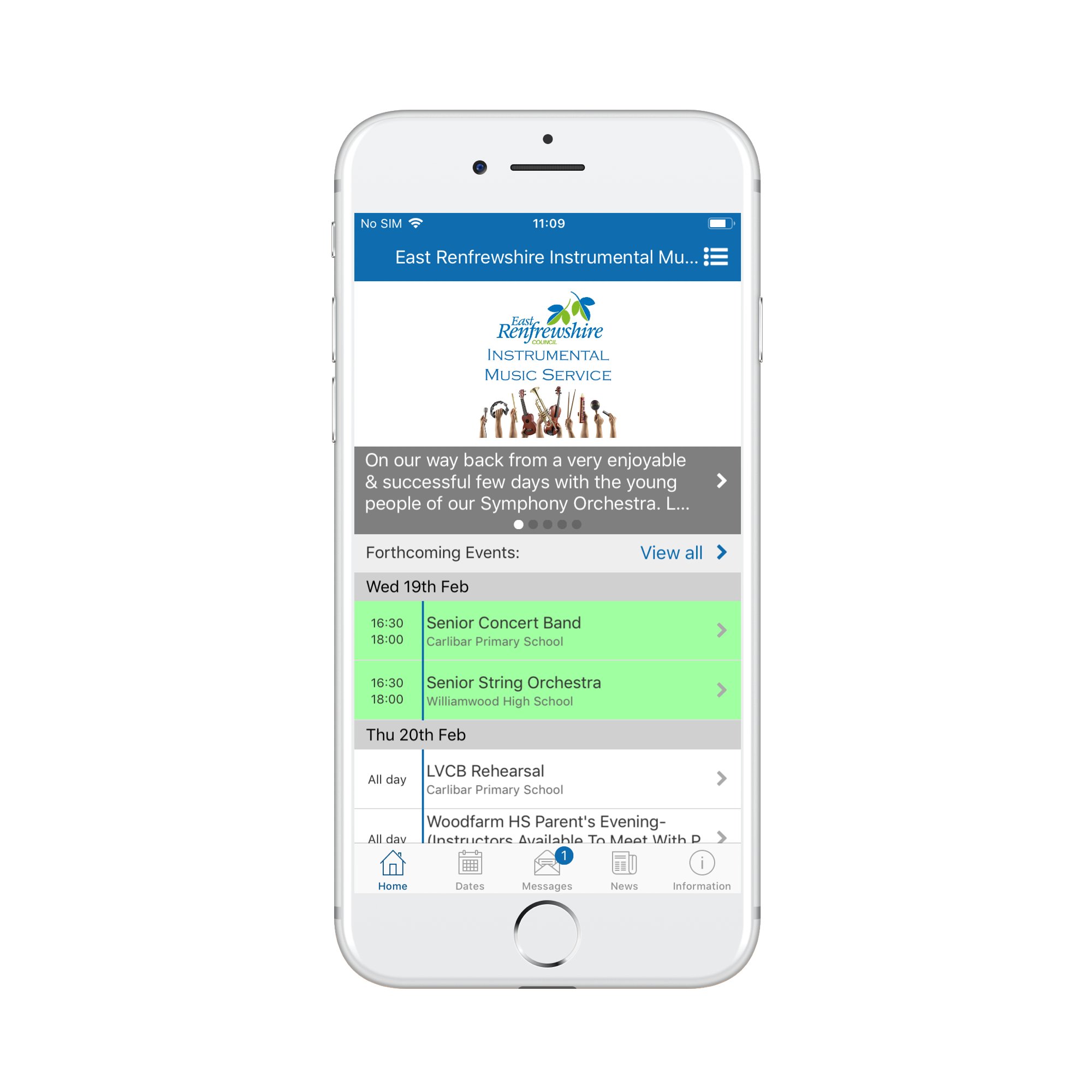 ---
Please follow East Renfrewshire's Music Service on twitter  @ERMusictalk for up dates and latest information
---
Saturday Music Centre
' Open Day Performances'
Saturday 14th December 2019
This will be an opportunity to see the authority orchestras, bands, ensembles and choirs, who rehearse weekly at the Music Centre in Williamwood HS performing and hear what they have been working on this term.
Parents/carers, family and friends are all welcome to attend this event and are encouraged to come along and listen to the fantastic variety of music on offer throughout the morning. The pupils and staff have all had a very hard working, but fruitful term and this event is always a very fitting way of celebrating their success. I hope you will take this opportunity to come along and we look forward to seeing you on the day!
Our parental committee, Friends of East Renfrewshire Schools Music, will once again be running a Christmas Raffle and Tombola alongside the Christmas Open Day Performances. This always proves to be extremely popular and is a great way to raise funds to support the music service.  Raffle tickets will be on sale at the fERSM desk on Saturday.
N.B.
All instrumental lessons will take place as usual on 14th.
---
---
Saturday Music Centre 
Please Click on Link for details:
Dates (Saturday Music Centre) 2019-20
N.B.  All Instrumental Lessons will commence on Saturday 24 August 2019
---
East Renfrewshire Schools' Senior String Orchestra – 2019/20 AUDITIONS!
Please find below a copy of the audition application form.
EAST RENFREWSHIRE SCHOOLS SENIOR STRINGS-SYMPH 2019 AUDITION FORM
Remember to get in touch with Mrs Fenn ASAP to book your audition time.
---
Choral Evening 19.3.2019
Choral concert info Letter for 19.3.2019
---
Please click on links below for details of the Glasgow Music Festival Performances on Sunday 10 March 2019 by the following authority ensembles;
---
Please click link below.
Intermediate choir Glasgow Music Festival performance Sunday 10 March 2019
---
Please see below regarding the Glasgow Music Festival arrangements.
 Sunday 10 March 2019 – Glasgow Royal Concert Hall – Senior Concert Band
 Could I please ask all performers make their own way to the venue and meet in the Island Bar area – please look out for Mr Finlayson, Mr Blackwood, Mrs Towers and Mr Finnigan upon arrival.
Dress code , as for any Senior Concert Band Performance, ALL BLACK.
Meeting time 6pm
Venue Glasgow Royal Concert Hall – Main Auditorium
Adjudicator- Marilynne Davies
Time Class
18:30 230 Concert Bands A
18:30 229 Concert Bands – (East Renfrewshire Schools' Senior Concert Band)
Open 18:30 234 Brass Bands –
Open 18:30 238 Jazz Bands –
Open 20:10 241 Wind Orchestras and Bands
Tickets are available for all events at the Festival. These may be purchased at the door on the day of the performance.  Tickets for 10 11 and 12 March 2019 are available only from The Glasgow Royal Concert Hall and may be purchased in advance.
Queues at the GRCH box office can be considerable resulting in delays, particularly for classes commencing at 10:00, 14:00 and 18:30 hours.
To ensure audience access to halls in time for the beginning of classes it is strongly recommended that tickets for performances at GRCH should be purchased in advance. This may be done in person, by telephone or on line.
0141 353 8000.
---
Please see below regarding the SCBF arrangements.
 Saturday 16 March 2019 – Perth concert Hall
We will travel to Perth Concert Hall by Crawford's Coach
Depart St Ninians Car Park 3pm
Collection RCS 3.45pm   (RCS pupils only)
Warm-up time 5.50pm approx
Performance Time 6.30pm
19.45 Adjudication #4
We would hope to return around 10 pm however the event usually runs late. We will therefore post on twitter our arrival time at St Ninians on the day. Twitter address above
Can performers please wear all black for all Senior Concert Band performance events?
Tickets for SCBF National Finals are only available directly from Perth Concert Hall
https://www.horsecross.co.uk/whats-on/scottish-concert-band-festival-2018
Ticket price last year was Adults £7.50 Concession £3.50
Food will be available from the café at the venue all day
---

SCBF 19 November 2017
Congratulations to all – an outstanding achievement by the members of the Senior Concert Band augmented by 18 new young players who joined after the summer break to be awarded a gold plus for a fantastic performance at the SCBF yesterday. This award now means that the band will be invited to take part in the finals of the SCBF competition in March at Perth Royal Concert Hall –all details will follow. I have attached an images from yesterday.
We have three rehearsal 22,29 Nov and 6 Dec before our Christmas concert on the 13 December tickets available for this concert are on sale now at Eastwood Theatre box office -bus collection and drop off have been arranged for the three rehearsals at the usual times and places.
---
East Renfrewshire Schools' Senior String
Orchestra performing at the
Holocaust Memorial Event,
St Ninian's HS 24 January 2017.
Piping and Drumming Students from East Renfrewshire. Visit to Bagpipe and Kilt Makers in Kilmarnock with Piping Instructor Iain MacDonald and Proprietor Kenneth MacLeod.
Jazz UK Will Michael Jazz Education Award
Donald Finlayson receives this award for the fifth year in a row in recognition of an outstanding commitment to jazz education in 2014/15