The future of the modelling industry could be revolutionised, seeing the new rise of CGI models.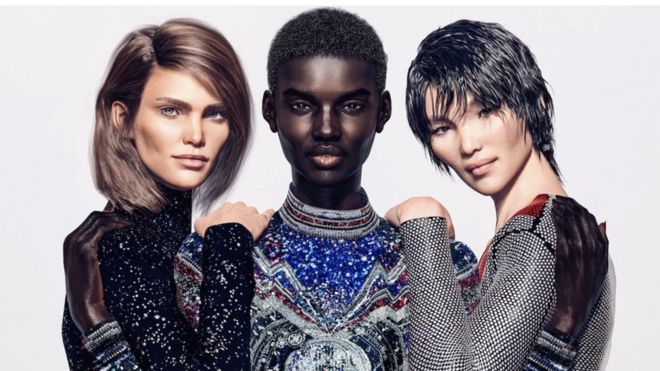 CGI Models
CGI models are a growing method to advertise fashion in big modeling agencies. Why search for a supermodel when you can create one with no flaws whatsoever? That's the general idea. Use CGI to make the supreme supermodel, one whose clothes fit perfectly – no tailor necessary. The model would be the ideal image for the person you want to flaunt your brand. It removes the casting process entirely.
French luxury fashion house Balmain have used CGI models in their recent campaign.
The new virtual troops reflect the same beautiful diverse mix, strong confidence and eagerness to explore new worlds. Anyone and everyone is always welcome to join the #BALMAINARMY. pic.twitter.com/ZL8y564cwe

— Balmain (@Balmain) August 30, 2018
Adding More Competition to the Game
The modeling business is extremely competitive. Possibly one of the most competitive businesses out there. Models are constantly fighting to be the best, to get that lucky break to take them to stardom, but will human models stand any chance against the flawless CGI alternatives? Probably not. Modeling agencies won't have to cast for models, sign the appropriate, sometimes extensive, paperwork, or pay the model at all.
A Knock in Self Esteem
Models who stay on top of the game are growing very concerned. It's a huge blow to their confidence. The possibility that very soon, they might become outdated. Replaced by the ultimate versions of human models. Digital model campaigns receive major backlash as models fight to keep the modeling business grounded in reality; virtual-free.
Not Just Models Who are Affected
The rise of CGI models could very well bring in a new line of agencies, with staff specialising in 3-D modeling and computer graphics, rather than advertising and casting specialists. Agencies will have to prepare for this possibility to hope to stay in the business that may soon change forever.
CGI and Real-life models working in harmony?
While CGI could defintiely pose a threat for people who make their living from modelling, British photographer Cameron James-Wilson, who created digital supermodel Shudu last year believes that human models could work alongside computer generated models.
"I see digital models as something that is very situational and works well for certain things but not so for others. Both can coexist and also work together. Imagine if a real model was scanned digitally and then could work anywhere in the world at anytime and do multiple shoots a day?"
By Rio Jordan, Reporter                                                                                           
Sources: Vogue, BBC News