S3 – FOOD PRODUCT DEVELOPMENT – SAFE AND HYGEIENIC PRACTICES
S3  are working on the first part of food product development, with the emphasis is on showing that all food developed must be safe for others to eat. once each pupil has gained this knowledge we will progress to developing a new product for sale.
first week- cheese shortbreads
week 2 – fruit cheesecake
Pupils will use frozen fruit, but could make this recipe with lemon juice/rind  instead of frozen fruit
Any suitable garnish could be used to make it look nice, if time allows cream or yoghurt could be put on top. Any garnish should reflect the flavour inside but could also include white or black chocolate
Health notes – remember to use wholemeal crumbs for the base if possible, or low fat options. try not to add extra sugar or syrup, and use fresh or frozen fruit to add fibre and food value. avoid cream and choose a low fat option where possible. remember that fat is bad for you because it contributes to obesity and heart disease, but is often needed in a recipe for flavour and texture.
A balance is needed for food product development (FPD)
week 3 – chicken noodle soup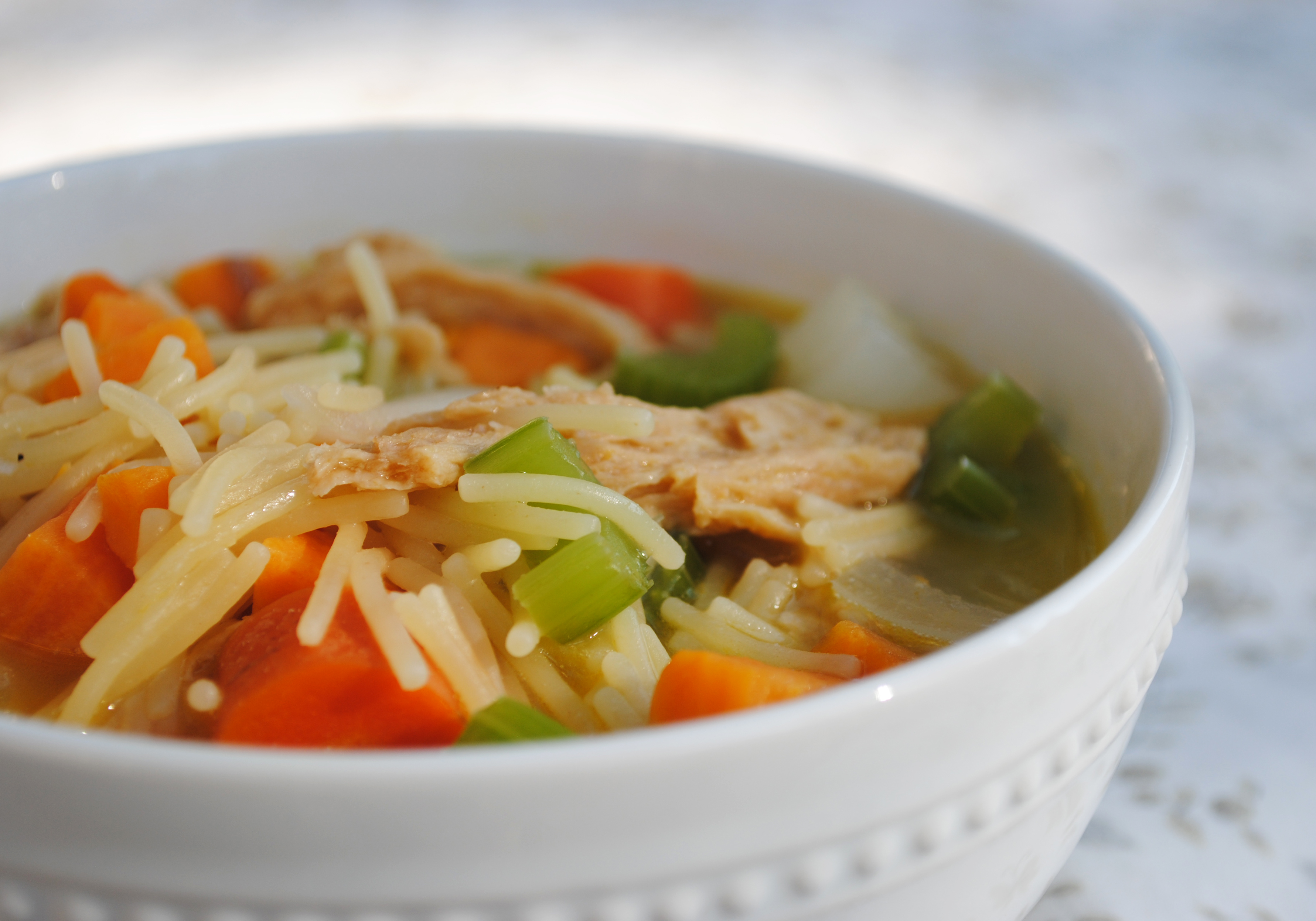 a Chinese style soup with thin strips of meat and vegetables cooked quickly, and simmered in stock with noodles.
the emphasis is on prevention of accidents when using and washing knives, prevention of food poisoning when preparing chicken, and correct handwashing/personal hygiene procedures.
Health notes – the dish is low in fat, and contains lean meat as well as several vegetables. Noodles supply long lasting energy.
week 4
sticky chicken and salad or noodles
this recipe will be cooked in the oven to prevent it sticking or burning to the pan, and can be served with noodles or a salad.
pupils will assess their own hygiene levels (self assessment) and will record the results.
if serving with salad, correct hygiene techniques are vital to prevent cross-contamination, as the salad is not cooked. Chicken must be cooked thoroughly and utensils washed carefully.
Health notes: chicken is very low in fat and if the dish is baked no fat is added. Green salad is fat free. Noodles are wheat based so are high in energy, and low in fat. The sticky sauce is made using soy sauce and sugary sauces so will contribute to energy intake.
Normal  soy sauce contains wheat but GF is available
week 5
Creamy chocolate fudge
this is a no cook dish so hygiene is very important
class demo of dish, pupils will get a small portion and make a food label to accompany the food
class will also prepare pastry which will be stored in the fridge/freezer to illustrate preservation of food.
Pastry dishes will be made at a later date
week 6
pastry – Cornish pasties
pupils have made pastry and frozen it for a week, they have made the filling and put it in the fridge for 24 hours.
the last part of the lesson is to shape and bake the filling. meat, onion and potato are placed on the pastry and  it is shaped. Skill is needed to shape it well and to seal it shut before baking. A glaze on top will make it look nicer.
pupils should be aware of all the storage issues involved in the making of this dish, and how to store the finished item.
week 7
food product development – introduction
swiss roll
AERATION
whisking eggs and sugar till thick, and sieving flour adds air
this makes the swiss roll light in texture
COAGULATION
the swiss roll sets due to the egg content, in the heat of the oven the eggs coagulate and set in the risen shape
caramelisation
the top of the swiss roll is brown due to the sugar and the effect of heat. it also goes brown due to the dextrinisation of the flour in the dry heat of the oven.
a good swiss roll is evenly cooked, light in texture, evenly coloured and rolled tightly. it has no cracks or splits in it.
Week 8
Quiche or cheese flan
this dish illustrates the use of
eggs/flour for coagulation
fat (marg) for shortening in the pastry
baking blind
use of the food processor where appropriate to prepare pastry.